3rd ''Scheduling in Aussois'' Workshop
Aussois, French Alps. -- June 2-4, 2010.
Presentation
The GRAAL project at Ecole Normale Superieure de Lyon organizes a workshop in Aussois, France on June 2-4, 2010. The workshop will focus on scheduling for large-scale systems and on scientific computing. This will be the fifth edition of this workshop series, after Aussois in August 2004, San Diego in November 2005, Aussois in May 2008, and Knoxville in May 2009. The success of the previous workshops greatly motivates us to repeat this event.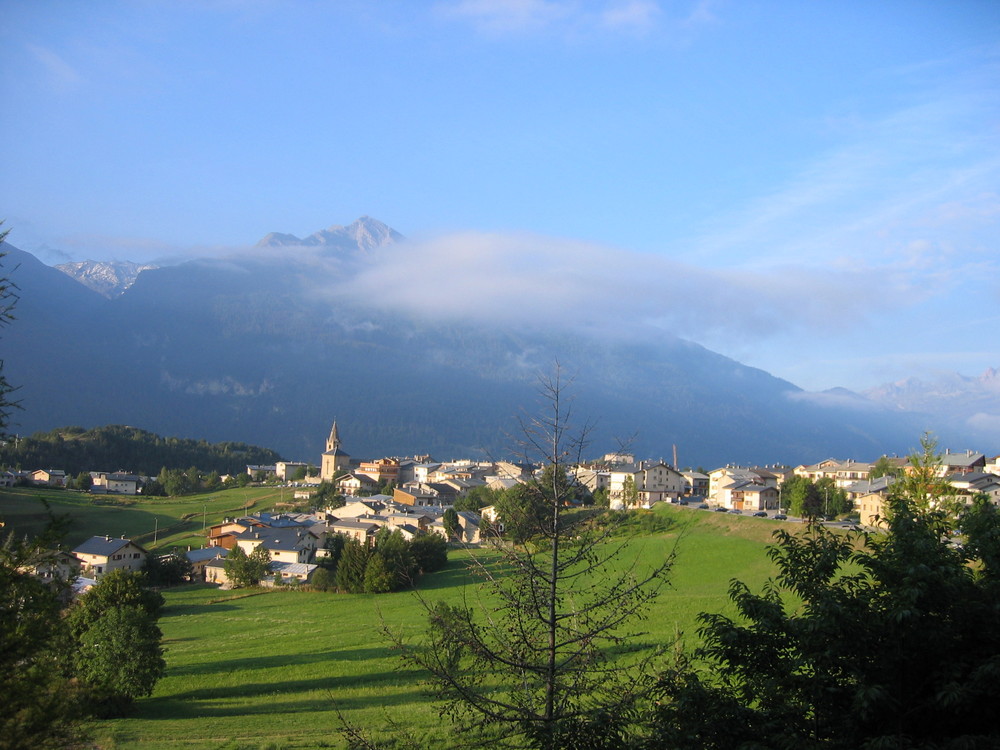 The workshop will consist in thematic half-days. We plan to devote a specific session to each of the following topics: scheduling and algorithms for large-scale systems, combinatorial scientific computing, and multicore algorithms. Apart from the talks (we have about 25 talks in total), there will be plenty of time for informal discussion and exchanges.
Although Aussois is a cute village in the heart of the French Alps, it is only four hours away from Paris with high speed train, and two hours away from Lyon.
Organizing Committee
Anne Benoit, Jean-Yves L'Excellent, Loris Marchal, Yves Robert, Bora Uçar, and Frédéric Vivien.
Practical informations
List of participants
Kunal Agrawal
Rob Bisseling
George Bosilca
Domingo Jimenez Canovas
Pietro Cicotti
Julien Langou
Joachim Lepping
Fredrik Manne
Rami G. Melhem
Erik Saule
HJ Siegel
Oliver Sinnen
Leonel Sousa
Jon Weissman

Emmanuel Agullo
Olivier Beaumont
Anne Benoit
Hinde Bouziane
Alfredo Buttari
Louis-Claude Canon
Lionel Eyraud-Dubois
Fanny Dufossé
Pierre-François Dutot
Jean-Yves L'Excellent
Matthieu Gallet
Bruno Gaujal
Alain Girault
Abdou Guermouche

Mathias Jacquelin
Emmanuel Jeannot
Kamer Kaya
Arnaud Legrand
Loris Marchal
Jean-Marc Nicod
Paul Renaud-Goud
Hélène Renard
Clément Rezvoy
Yves Robert
Frédéric Suter
Lamiel Toch
Denis Trystram
Bora Uçar
Frédéric Vivien
Further information
HOT: see photos by Bruno Gaujal. Please send the ones that you have taken so that we can all share. By Lamiel Toch (im1, im2); by Jean-Marc Nicod are here.
Program (pdf files of the talks are being added; if you have not done yet, please do send a pdf copy)

| | | | | | | | | | |
| --- | --- | --- | --- | --- | --- | --- | --- | --- | --- |
| | | | | | | | | | |
| | Hours | JUNE 1ST | Hours | JUNE 2ND | | Hours | JUNE 3RD | JUNE 4TH | |
| | | | 08h30 - 08h50 | Welcoming speech | | | | | |
| | | | 08h50 - 09h25 | T1 (Siegel) | | 09h00 - 09h35 | T9 (Langou) | T14 (Eyraud-Dubois) | |
| | | | 09h25 - 10h00 | T2 (Sousa) | | 09h35 - 10h10 | T10 (Manne) | T15 (Saule) | |
| | | | 10h00 - 10h30 | COFFEE BREAK | | 10h10 - 10h30 | COFFEE BREAK | COFFEE BREAK | |
| | | | 10h30 - 11h05 | T3 (Melhem) | | 10h30 - 11h05 | T11 (Weissman) | T16 (Bisseling) | |
| | | | 11h05 - 11h40 | T4 (Jimenez) | | 11h05 - 11h40 | T12 (Sinnen) | T17 (Agullo) | |
| | | | 11h40 - 12h15 | T5 (Legrand) | | 11h40 - 12h15 | T13 (Trystram) | T18 (Buttari) | |
| | | | 12h30 - 14h00 | LUNCH | | 12h30 - 14h00 | LUNCH | LUNCH | |
| | | | 14h00 - 14h35 | T6 (Suter) | | | | DEPARTURES | |
| | | | 14h35 - 15h10 | T7 (Gaujal) | | | | | |
| | | | 15h10 - 15h45 | T8 (Jeannot) | | | | | |
| | | | 15h45 - 16h20 | COFFEE BREAK | | | SOCIAL EVENT | | |
| | | | 16h20 - 16h40 | PhD1 (Dufosse) | | | | | |
| | | | 16h40 - 17h00 | PhD2 (Toch) | | | | | |
| | 17h00 | ARRIVALS | 17h00 - 17h20 | PhD3 (Cicotti) | | | | | |
| | | | 17h20 - 17h40 | PhD4 (Gallet) | | | | | |
| | | | 17h40 - 18h00 | PhD5 (Canon) | | 17h40 - 18h00 | PhD6 (Jacquelin) | | |
| | | | 18h00 | SOCIAL EVENT | | 18h00 - 18h20 | PhD7 (Renaud-Goud) | | |
| | | | | | | 18h20 - 18h40 | PhD8 (Lepping) | | |
| | | | | | | 18h40 - 19h00 | PhD9 (Rezvoy) | | |
| | 19h30 | DINER | 19h30 | DINER | | 19h30 | DINER | | |
| | Tx: | Regular talks (30 mins + 5 mins questions ) | | | | | | | |
| | PhDx: | In PhD session (15 mins + 5 mins questions) | | | | | | | |
---