Home

Publications

Brief Curriculum Vitae

Research Interests

Projects

Teaching

Students

Softwares

Open positions

Professional Activities

Links
Home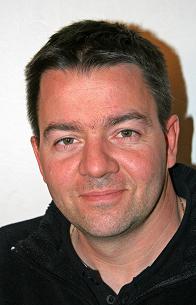 Eric Fleury
Professor
Ecole Normale Supérieure de Lyon
Head of the Computer Science Department
Leader of the D-NET INRIA team.
INRIA Grenoble - Rhône-Alpes research centers
D-NET team is located at ENS Lyon and hosted by IXXI.
LIP
Laboratoire de l'Informatique du Parallélisme
UMR CNRS -- ENS Lyon -- INRIA -- UCB Lyon 5668
Ecole Normale Supérieure de Lyon
46, allée d'Italie
69364 Lyon Cedex 07, France
VOICE: +33 672 162 974 / +33 (0)4 26 23 38 07
FAX: (+33) 4 72 72 88 06
EMAIL: Firstname.Lastname@inria.fr
Office: B09 at IXXI.
ACCESS MAP for ENS Lyon and for IXXI.
Last news
Last DNET applications on Facebook Communities
Selected Publications
Grauwin Sebastian, Beslon Guillaume, Fleury Eric, Franceschelli Sara, Robardet C&eacuteline, Rouquier Jean-Baptiste, Jensen Pablo. Complex Systems Science: Dreams of Universality, Reality of Interdisciplinarity. Journal of the American Society for Information Science and Technology, ASIS&T, 2012

Friggeri Adrien, Chelius Guillaume, Fleury Eric, Fraboulet Antoine, Mentr&eacute France, Lucet Jean-Christophe. Reconstructing Social Interactions Using an unreliable Wireless Sensor Network. Computer Communications, Elsevier, 2011, 34 (5), pp. 609-618. <http://dx.doi.org/10.1016/j.comcom.2010.06.005>

(Best Paper Award) Wang Qinna, Fleury Eric. Community detection with fuzzy community structure. ASONAM 2011,

Jul

2011, Kaohsiung, Taiwan, Province Of China.